Learn More About the Sarasota Safety Surfacing Team Today

Safety surfacing services and professionals who are truly experienced to provide them are quite hard to find in Sarasota and even Florida or throughout the entire country. It is quite common to face the typical situation: people calling themselves "professionals" when they are not and making you waste money on services that do not satisfy your needs nor meet the basic problems. Fortunately, our company Sarasota Safety Surfacing has well-trained, qualified, and experienced professionals who will offer the best results regarding your needs in this field.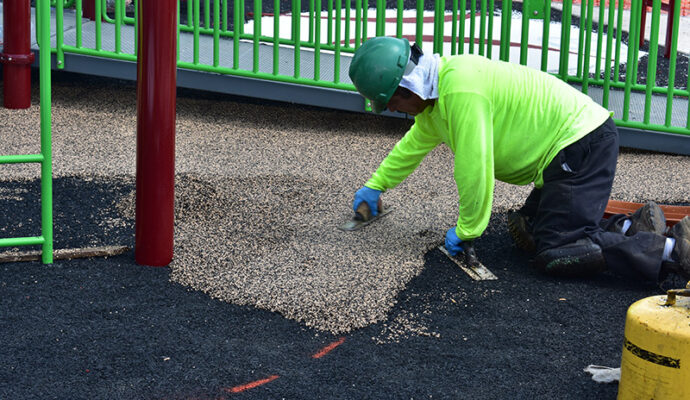 Installations, advice, repairs, replacements, maintenance, and much more. All this can be handled by our team without delay and including a wide range of safety surfacing options available to use or that you might have installed already. What we guarantee you are much more than just a service that will finish right after the surface is ready to go.
We will be present before, during, and after the process is completed to guarantee every part of it meets your expectations and needs. We want you to keep in mind that our company has a wide range of services that will satisfy your problems and needs, which is why we are also confident about being the professionals you need to rely on:
Safety Surfacing Services. Any problem, need, or project you have regarding safety surfacing can be handled by our team of experts. As we mentioned, we are not limited to only a few things, which is why you can reach out to us for all types of projects.
Bonded Rubber Mulch. If you want to imitate traditional wood mulch but still get a surface that provides support and shock absorption, this one is the best in the market.
Bonded Rubber. This unitary surface dries quicker, has great porosity and drainage properties, and you can use it in spaces where humidity and water would usually affect other types of surfaces.

EPDM Rubber. Flexible and long-lasting are the main characteristics of the surface, which can be used for more than the regular flooring for safety surfacing.
Poured-In-Place Rubber. This surface consists of two layers. The base layer is the one providing support and shock absorption properties, and the wear layer that protects the first one and offers the final design or appearance for the surface.
Rubber Tiles. You can obtain the stunning look of tiles with this rubber option that is usually used in indoor spaces, provides great support for knees and joints, and the geometric patterns are just stunning.
Synthetic Grass. Stop wasting money on maintenance and chemicals required for real grass and have a more eco-friendly and useful synthetic grass that is made with nylon and polyethylene in our company.
Synthetic Turf. While artificial grass is mainly used for landscaping, turf provides a solid and tough surface that helps sports and training fields or similar spaces to have more support and grip. Just like with grass, the synthetic option for turf eliminates the need for watering and high maintenance.
To access any of our services, feel free to call, email, or visit us anytime. Sarasota Safety Surfacing is a company that is available for anyone who needs our solutions.
Below is our list of additional services: