Welcome to the Sarasota Safety Surfacing Team

When you are thinking about going under a new project, you usually have problems deciding what to do first. Well, if your project is related to safety surfacing, you should definitely focus on finding professionals before anything else and learning a bit about what the entire process can involve. Overall, working with surfaces, be it for roofing, flooring, or other spaces and areas is quite tough due to how well the installation should be but also, the quality of the materials used for the project.
This is something you must keep in mind whenever you are starting it or even considering it: the quality of the materials used but the installation of the surface as well are the most important parts to guarantee a good surface that will last and is going to be durable.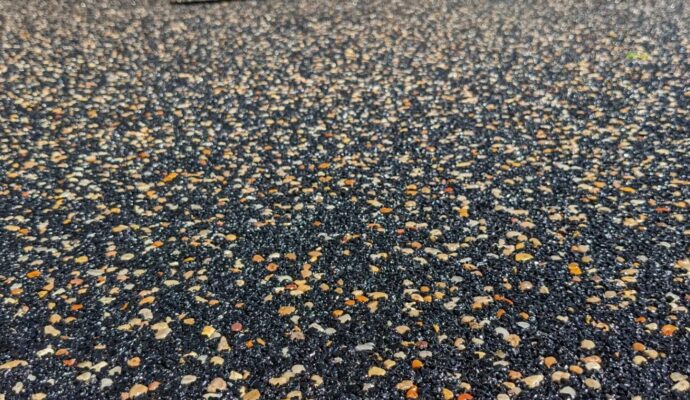 Now, how do you know what safety surfacing option in the market is the most suitable for your needs and preferences? Well, this will not be determined by your preferences most of the time but rather needs and other factors that influence choosing one of the surfaces available. What are these factors? Depending on whom you ask, you might receive a different answer due to what professionals consider to be important.
Of course, there are a few that qualify as common and general when it comes to safety surfacing and we can go over them below:
The location of the space where the surface is required: or more like the area where it is needed. The existing surface plays an important role in the final result and if the surface can be installed on top of it, to begin with.

The temperature changes and climate: not all surfaces perform well in hot weather and others perform poorly in cold ones. Also, temperature changes can affect their longevity and durability, which is why it is crucial to choose one that can adjust to the climate.

Your budget for the project: it is natural to have surfacing options that are more expensive than others and you might have to quit to some ideas due to how much money you can spend, but you should be able to find others that are more affordable and meet your needs and most of your preferences.

The level of shock absorption needed: safety is the main reason why you are installing this surface and therefore, having one that can go well with the accidents, falls, and activities that will take place in the space is crucial, which is why the impact absorption properties must be evaluated.

The design and color pattern: with a few ones, you will have a wide range of options while others only offer you very few ones. However, keep in mind that the previous factors are more crucial than this.
As you can see, there is a lot to consider when choosing a surface and something we did not include is that you can choose one, but when it comes to the materials—which takes us back to a previous mention—, you also have to make sure the surface was made with a high-quality type of it. In other words, you can have plastic, but is this plastic the best one in the market? This applies to any other material used for a surface since there is a wide range of options.
What do safety professionals do during this process?
Or more like what they do not do. Professionals should be able to handle the entire process for you, starting with providing advice and recommendations about what surface is the best for your project. All the previous factors will be considered and many others depending on the specific situation. Therefore, you usually do not have to worry about figuring things out by yourself but rather stay well-informed with all the details they provide you.
Now, the most important part lies in the materials and services they offer. Well-trained and qualified professionals should be able to promise two things in particular: high-quality materials used for the surfaces and the best installation to guarantee the surface's longevity and durability. Sadly, not many companies in Sarasota will actually provide you with them, either because they do not work with the materials directly or they are not actual professionals in the field.
At Sarasota Safety Surfacing, we are able to assist you in every step and guarantee you end up with a surface that satisfies all your needs but also preferences. Besides the factors mentioned so far, we take into consideration others based on the city you are located in. After all, our company not only offers services in Sarasota but rather the entire state of Florida and nationwide. Therefore, when relying on us, you are guaranteed to have well-qualified and experienced professionals working for your surface and in obtaining the best result possible.
What services can you access in our company?
---
With all the previous information in mind, how do you know if we can help you with your surface in specific? Since safety surfacing is not only about installation nor a few surfaces available in the market, you need to determine if a professional is actually able to offer the services that fit your needs and projects. Fortunately, we are very confident about ours and it is due to the type of surfaces we have available but also, the general services we offer regarding this field.
When considering us, you can keep in mind these services whenever you decide to contact us and ask for questions or request any of them right away:
How to have our professionals working on your surface
---
It only takes a call, email, or filling our contact form to ask questions, clear doubts, or request any of our services. Before you make a decision about choosing us, we want to give you a few reasons why we are the right ones compared to other companies and professionals in the city and state:
We only use high-quality materials. As we previously mentioned, TPV and EPDM rubber are the only ones, and when it comes to synthetic grass and turf, only nylon and polyethylene are used for manufacturing instead of basic plastic that is not durable nor long-lasting.

We are qualified and experienced in installing, repairing, or providing maintenance to any of the previous surfaces since we have been in business for over a decade.

Small or large spaces are not a problem for us nor indoor or outdoor ones.

Our company can offer you discounts depending on your project and keep in mind that the price of the surface has the installation included.

You can count on us regardless of your location since Florida is just one of the states where you can find us. We are a nationwide company waiting to assist anyone who needs safety surfacing services.

Guidance, advice, and recommendations will be provided before, during, and after the project or job.
If interested in our services at Sarasota Safety Surfacing, do not hesitate to contact us anytime and allow our professionals to be the key to having a stunning but more importantly, safe surface for your space.
Below is our list of additional services: